Entry Details – LCQ Lakeside Driver Training Centre Timed Laps.
The Lotus Club Queensland Lakeside Driver Training Centre Timed Laps event is on again on Saturday 27th August 2016 at Lakeside Raceway Driver Training Centre Lakeside Road, Kurwongbah Qld.
This event will be run under Recreation and Competitive Events Resources and Services RACERS Licence arrangements and is open to all LCQ Members, their family and friends. The format is a single car run for a timed lap, and the aim is to have a great day in a safe, controlled environment. The Lakeside Driver Training Centre is at the rear of Lakeside Raceway main track and has a combination of layouts. It is a bitumen track with fairly flat, open grass, safe run-off areas in most parts. See the course map below.
Entries close Thursday 25th August 2016. Total entries will be restricted to 60.
This will be an all-day event starting at 7.00am for registration and scrutineering. Please arrive early as scrutineering can take time. Please click here for QR Entry Form and here for a RACERS Licence Application Form for more details. Please email the "FRONT PAGE ONLY" of your Entry Form to Daryl Wilson at wilmac@bigpond.com by Friday 26th August 2016, so we can record your entry.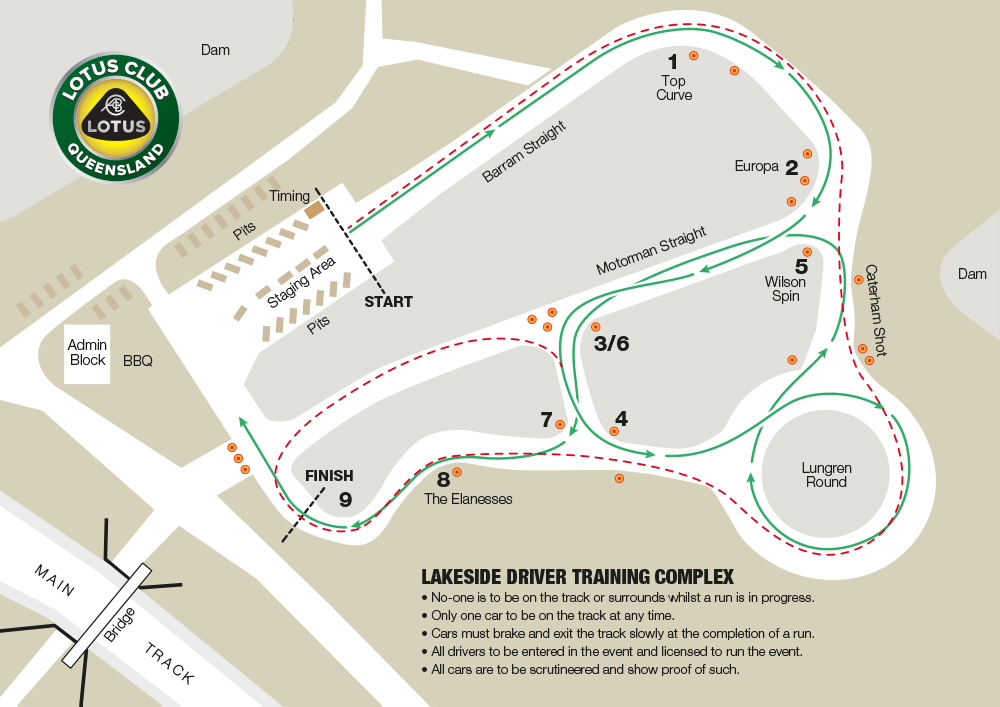 Entry Fee & Payment Details
$75.00 Entry fee per driver – if you have a RACERS Annual Clubman Licence.
or
$95.00 Entry Fee per driver – if you need to purchase a RACERS Day Licence ($20.00).
Please forward your payment by bank transfer to:
LCQ Bank Account BSB 633-000
Account No: 119108751
and include the reference "DTC and your name".
Note: You must register and pay beforehand, as NO entries will be accepted on the day. Payment must be made by Thursday 25th August 2016 to the Lotus Club Qld bank account. No Credit Card payments or money is to be paid to Queensland Raceways.
If your vehicle is Queensland registered you will be required to obtain a Compulsory Third Party (CTP) insurance Rally Extension letter from you CTP Insurer. The CTP letter is to state the name and date of the event and be produced at registration on the day. Here is a sample letter. If your Third Party (CTP) insurer is Suncorp Ltd, Allianz Australia Insurance Ltd or AAMI Ltd you can apply on-line using this email address.
Please ensure you bring the following signed original forms on the day:
Your signed original Entry Form
Your RACERS Annual Clubman Licence – if applicable
A signed RACERS Day Licence Application Form – if applicable
Your CTP Rally Extension Letter
Your Civil Drivers Licence
Your Car Club Membership Card – if applicable
These forms will be required by Lakeside staff when you register. Please register early to assist us get off to a good start on the day. Electronic copy letters are not accepted. No hard copy forms/letter, no start.
Event Requirements
CAMS/AS approved helmet in good condition must be presented at scrutineering and must be worn while competing. A full face helmet visor is required if you are driving an open car.
Neck to ankles and wrists clothes and closed footwear is required. Fire suits are not required but their use is encouraged.
Seat belts must be in good order. Standard fitted lap-sash belts are accepted. Noise restrictions apply at Lakeside – 95db.
Dorian transmitters are not needed for this event.
Fire extinguishers are not required but fitting of them is encouraged.
Entry closing, credits/refunds, and vehicle retrieval/transfer details on the QR "Conditions of Entry" forms are NOT APPLICABLE to this event.
Any queries please contact Daryl Wilson
Mobile: 0418 711 227 | Email