Borrowing from Sophia of The Golden Girls… "Picture this. A beautiful Sicilian girl in a tiny village…" OK, now really try this.
By Anne Blackwood.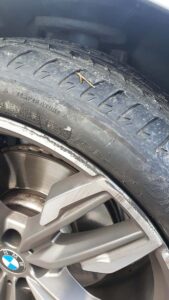 Good Friday, 2022 after departing the northern end of the Gold Coast at 3.30 am (couldn't sleep, so may as well get up) heading towards daughter Jen and family at East Seaham, near Raymond Terrace. I enter Coffs Harbour at 7.00 am and hit an – unseen – humungous pothole at 30 kmh after leaving the stoplights near the clog shop on the northern side of town.
All appears all right until exiting the south side of Coffs when all the bells and whistles light up on the dash advising of a tyre calamity. Mmmm… do I head for the huge servo on the right or aim for little old Urunga? Urunga it was and proved to be the correct decision. I had destroyed the wall of the run-flat.
So here I am in Urunga on Good Friday in a state-of-the-art car promoting 24 Driver Assistance along with its own SIM card to enable me to call for assistance if required. How did all that help? F*&k all!
Hickey's Towing of Urunga, the local NRMA stepped up advising that because there was no way of repairing or replacing the tyre and as I am a 52 years long member of the NRMA I was flat "trayed" – free of charge – the 300+ kms to Jen's. So, here was the beautiful Sicilian girl, and her dog, expecting to share the ride with a non-communicative driver but I ended up with Andrew from Hickey's. I think I want his babies but my kids said "No!" and good advice I think that is too.
Seven days later the first replacement tyre turned up from Sydney with another expected from Adelaide as at that time I was going to replace both fronts – at $600 each. The Adelaide one was going to be at least a further three days so I replaced the one and headed north.
In summary, this beautiful car with its outstanding performance – but unfortunately run-flat tyres of different sizes front to rear; no spare has gone. I pick up the Toyota Kluger at the end of the week!
PS. My Emira is due late August so there's still a lot of fun to be had – in both cars.