A 60-year history of lightness, precision and terrific little driving machines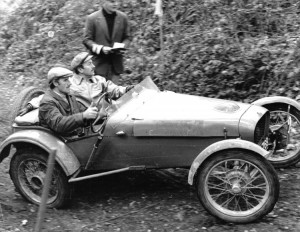 In 1948, Colin Chapman built a stressed plywood body and put it on a rotten old Austin 7 chassis to produce his very first car. With this innovative and competitive machine he competed in sporting trails.
Classic Trials are one of the oldest forms of motor sport, dating from the beginning of the 20th century. On these, the car or motorcycle is stopped at the foot of a hill and has to make a non-stop ascent. Chapman soon developed a reputation as a talented car designer and went on to build a much improved trials car. He was so pleased with this machine's handling that he thought he'd have a crack at circuit racing with it too. On 3 June 1950, in an eight-car race at Silverstone, Chapman brought home his trials car ahead of a Type 37 Bugatti to win his very first circuit race.
After building multiple trials and road racing cars, Colin Chapman introduced his first 'production' car, the Lotus Mark VI, in 1952. The heart of the Mark VI was a space frame chassis. Rather than a complete car, it was available to the general public as kit, wherein the customer could install any preferred engine and gearbox, making it eligible for a wider number of formulas.
Production and development of newer models continued with the cars becoming more sophisticated, faster and more successful. The Eleven was in production and running at Le Mans when Chapman, his wife and another couple were having a regular Sunday evening meal together. One of the women said they should look at producing a simple car again for the market the Six had met but Lotus had moved away from. The word is they sketched it up that night and had the prototype built within a week. Heavily based on the Eleven, this car was to become the Seven, though initially the Seven number was missed.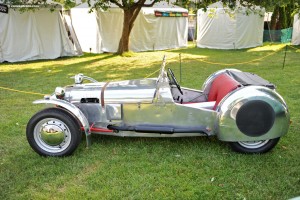 The Lotus Seven was launched in 1957 – the Seven name was left over from a model that was abandoned by Lotus, which would have been a Riley-engined single-seater that Lotus intended to enter into Formula Two in 1952 or 1953. However, the car was completed as a sports car and christened the Clairmonte Special.
The Seven was powered by a 40 bhp (30 kW; 41 PS) Ford Side-valve 1,172 cc inline-four engine. It was mainly for lower budget club racing on short tracks (750 motor club).
In order to continue building successful racing cars, Lotus needed to continue to make money. The Seven was never designed as a competition car. In fact, the exercise of going from the S1 to the S2 was about keeping build costs as low as possible, and the Seven had a frame with plenty of limitations. Sales dwindled and there are plenty of stories about Seven enthusiasts within the company who worked to keep the car in production while Chapman wanted to drop it, as it was not making money and did not suit the image he was cultivating for the company.
The Lotus Seven S2 followed in 1960 and was supplemented by the Lotus Super Seven S2 from 1961. The Super Seven initially used the larger Cosworth modified 1340cc Ford Classic engine and later examples were fitted with 1498cc or 1599cc engines.
The Seven S3 was released in 1968. In 1970, Lotus radically changed the shape of the car to create the slightly more conventional sized Series 4, with a squarer fibreglass shell replacing most of the aluminium bodywork. It also offered some 'luxuries' as standard, such as an internal heater matrix.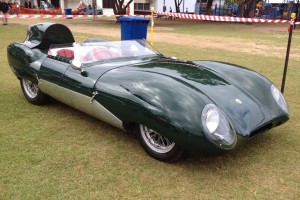 The British tax system of the time – Purchase Tax – meant the car could be supplied as a kit (known as 'completely knocked down' or CKD) without attracting the tax surcharge that would apply if sold in assembled form. Tax rules specified assembly instructions could not be included, but as the rules said nothing about the inclusion of disassembly instructions, they were included instead and all the enthusiast had to do was to follow them in reverse.
The original model was highly successful with more than 2,500 cars sold, due to its attraction as a road legal car that could be used for clubman racing.
Having joined the EEC on 1 January 1973, the UK had to abolish Purchase Tax and adopt VAT instead. VAT does not allow for concessions such as 'CKD', so the tax advantage of the kit-built Lotus Seven came to an end. Between 1957 and 1972 the Colin Chapman designed and produced Lotus Seven became the embodiment of the Lotus philosophy of performance through low weight and simplicity.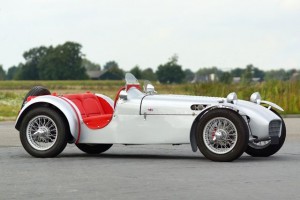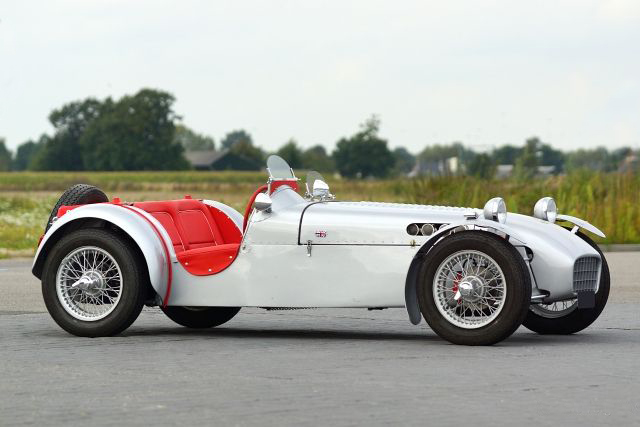 The Seven After Lotus
In 1973, Lotus decided to shed fully its kit car image and concentrate on limited series motor racing cars. As part of this plan, Lotus ended production of the Seven and sold the rights to its only remaining agents Caterham Cars in England and Steel Brothers Limited in New Zealand.
Today Caterham make both kits and fully assembled cars based on the original design.
When Caterham ran out of the Lotus Series 4 kits in the early 70s, in accordance with their agreement with Lotus, they introduced their own brand version of the Series 3. They have been manufacturing and refining this car ever since as the Caterham Seven.
Steel Brothers Limited in Christchurch, New Zealand assembled Lotus Seven Series 4s until March 1979 when the last of the 95 kits provided by Lotus was used up. The last Lotus badged Seven Series 4 was therefore produced in New Zealand. There was also an attempt to make a wider, modernized version of the Series 4 using the twin cam Lotus 907 engine, called the 'Lotus Super 907'.
This video explains how Colin Chapman began the process of developing the Lotus Seven from its early origins as a trialling car.
In the spring of 1978 it was announced that this was to be sold in the United States (as the 907 engine had been federalized) – but the American importer had no funds and the project came to naught. The single finished Super 907 still resides in New Zealand. Lotus Super Sevens built in New Zealand (cars 3008 and 3015) were imported into California in 2012 by Trevor Candler.
Between 1970 and 1975, following a representation agreement, Lotus Argentina SA obtained the license to manufacture the Lotus Seven in Argentina. This production reached approximately 51 units.
These vehicles were not replicas, but built under license and original brand Lotus, this being the second legitimate Lotus Seven built out of England, and therefore can also legitimately bear the emblem of Lotus.
The Lotus Seven design has spawned a host of imitations on the kit car market, generally called Sevens or sevenesque roadsters. Many of those cars are still produced to this day. Along with manufacturer supplied kits, there are entirely self-built sevenesque cars referred to as Locosts.
Driving the 1969 Lotus Seven is, without question, the single best moment of my life… it's the same distilled, cask-strength delight I felt when my brother and I pushed a home-built cart down a too-steep hill, the same blend of thrill and mild terror. My left foot darts down from its perch atop two exposed screws to push in the clutch, the four-speed gearbox moves to third with a fractional wrist movement, and then on the throttle and the engine growling once more and its 'Biggles Learns To Drive' and I'm buzzing the aerodrome and shouting "yah boo sucks to you!" at the Zeppelin pilots. I must buy goggles. And a helmet. And one of those long white scarves. And one of these, I've got to get me a Seven. Seventh Heaven! – Brendan McAleer, Drive.
Pre-Lotus Seven Models
Lotus MkI
The first car Chapman built was an Austin 7-based "special" not designed for racing, just designed to be driven! An outing competing in off-road Trials competition with the car and then-girlfriend (and future wife) Hazel Williams helped to convince Chapman to continue building cars, only with the next to be faster.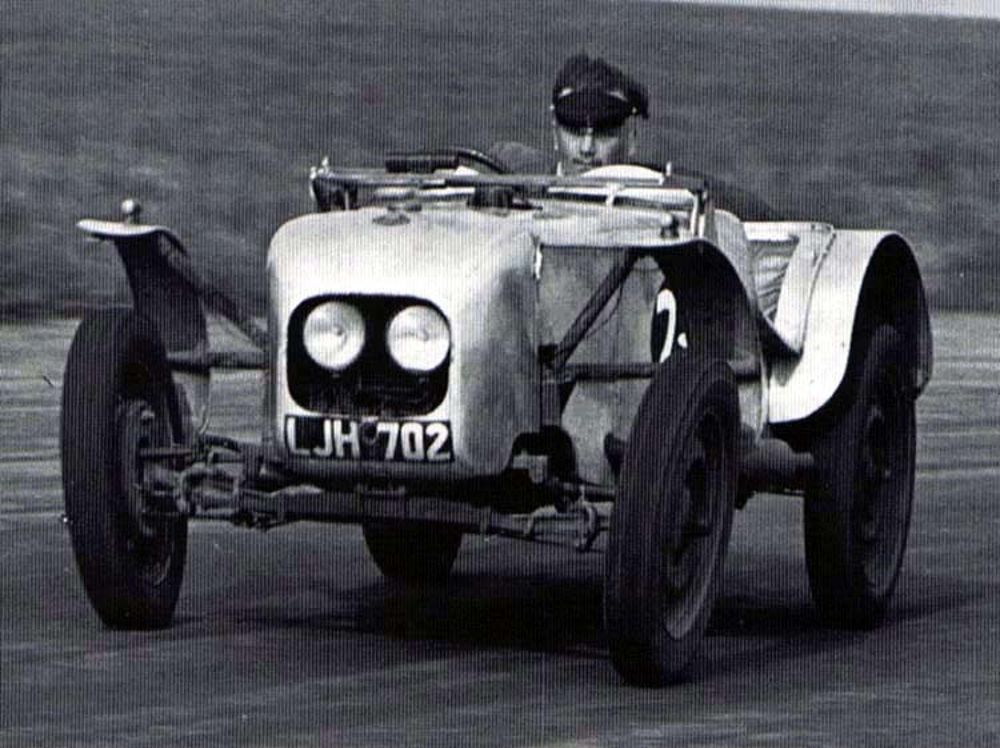 Lotus MkII
His second machine was built to compete in trials competition, and tellingly, was also able to run on the road. Think of it in spirit as your grandfather's Ariel Nomad. Chapman entered it into events held by the yes-you-can-still-become-a-member-of-it 750 Motor Club. Once he realised it was quick in circuit racing, his next car was built for the tarmac.
Lotus MkIII
Technically-speaking, this is Lotus #1, or at least it was the first car to be "called" Lotus, though its lineage is clear. It's as advanced as you'd expect from a Chapman design, even one from 1951: aluminium bodywork, 0-50 mph in less than 7 seconds, and a top speed of around 90 mph. Did I mention it had just a 750cc engine?
Lotus MkIV
Lotus Engineering Company—founded with the help from a £50 note from Hazel Williams—finished up the Mk IV, a car that would be the final Trials car—naturally, it won on its debut, and requests to purchase a "Lotus" pushed the company ahead with its most revolutionary design yet—the 1952 Mk VI.
Lotus MkVI
Lotus MkV development was abandoned for the VI, the first car from the company to sell in great numbers — more than 100 kits, and the first to resemble the Seven we all know and love. Even today — forgive its lack of safety — its performance is brisk: 93 mph top speed, 0-60 mph in about 15 seconds from your choice of engine. Weight was a comically low at 952 lbs, which is a near 40% saving from the minimum weight for a 2016 Formula 1 car.
Once assembled, it was a car that gave many amateurs around the UK and beyond their first taste of victory — the first of only a few times where DIY designs have trounced factory efforts.
Lotus Seven Models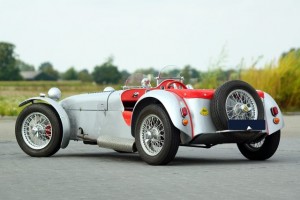 Lotus Seven S1
First generation
Year/s: 1957–1960
Body and chassis related to: Lotus Eleven
Engine: 1,172 cc (1.2 L) I4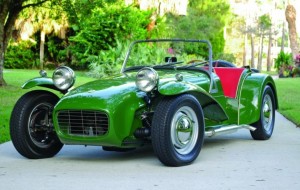 Lotus Seven S2
Second generation
Year/s: 1961–1967
Engine: 1,340 cc (1.3 L) I4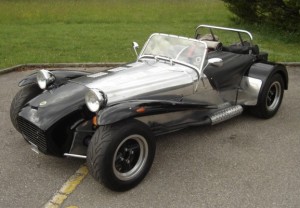 Lotus Seven S3
Third generation
Year/s: 1968–1969
Engine: 1,600 cc (1.6 L) I4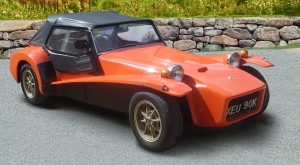 Lotus Seven S4
Fourth generation
Year/s: 1970–1972
Engine/s: 1,600 cc (1.6 L) I4
1,700 cc (103.7 cu in) I4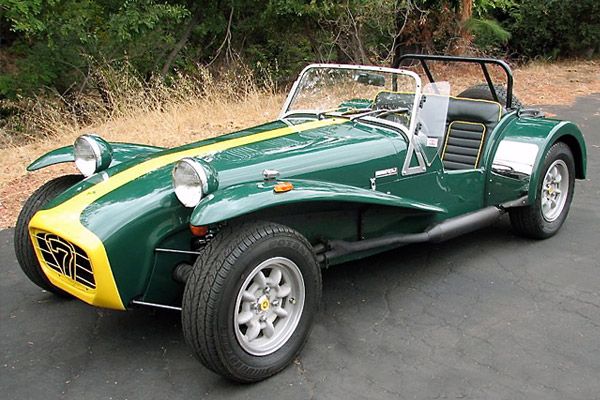 1970 Lotus Super 7
Evolution of the Lotus Seven – Caterham
Caterham owns the rights to reproduce the Lotus Super Seven and in their hands the car, or at least the badge, has continued to thrive to this day with development continuing.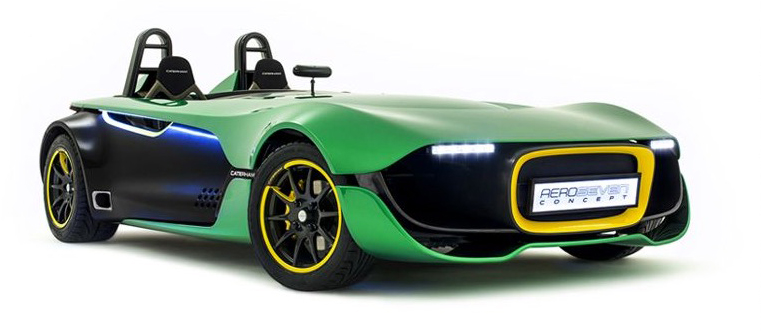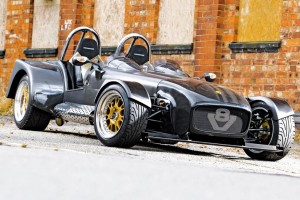 Caterham Cars has recently developed the AeroSeven Concept, the first ever Caterham fitted with traction control. Thanks to an Engine Management System, drivers will be able to enjoy fully-adjustable traction and launch control functionality. Utilising a naturally-aspirated, EU6-approved, 240ps (237bhp) engine developed by Caterham Technology & Innovation from the recently launched Caterham Seven 485, (one of the world's highest revving EU6-compliant engines) it transfers power to the rear wheels through a six-speed manual gearbox.
The AeroSeven Concept is stacked with race car-inspired features, including aerodynamic styling, plenty of carbon-fibre, an exclusive F1-style steering wheel with driver-focused functionality, and an intuitive fully active Graphical Display Unit (GDU).
Caterham Levante – RS Performance RST-V8 Engine
The 'Levante', built by RS Performance Engine Developments Ltd. (RS = Russell Savory), is a mostly-carbon-fibre bodied Caterham, with Kevlar seats, combined with a 2.4-litre 40-valve supercharged V8 and boasts almost 1,000 bhp (746 kW; 1,014 PS) per tonne while weighing just 530 kg (the RS website specifies 'in excess of 500bhp,' and 520 kg). The math may or may not achieve over 1,000 bhp per tonne. Costing £115,000 each, only eight were produced to celebrate more than 50 years in production. They immediately sold out. Two days of mandatory 'driver training' were included in the price of the car.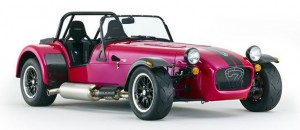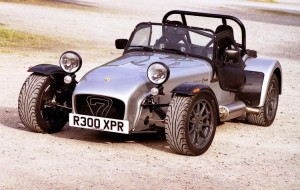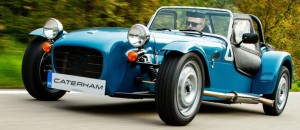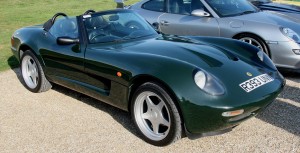 Caterham UK website | Caterham Australia website
THE SINCEREST FORM OF FLATTERY – REPLICAS & INSPIRATION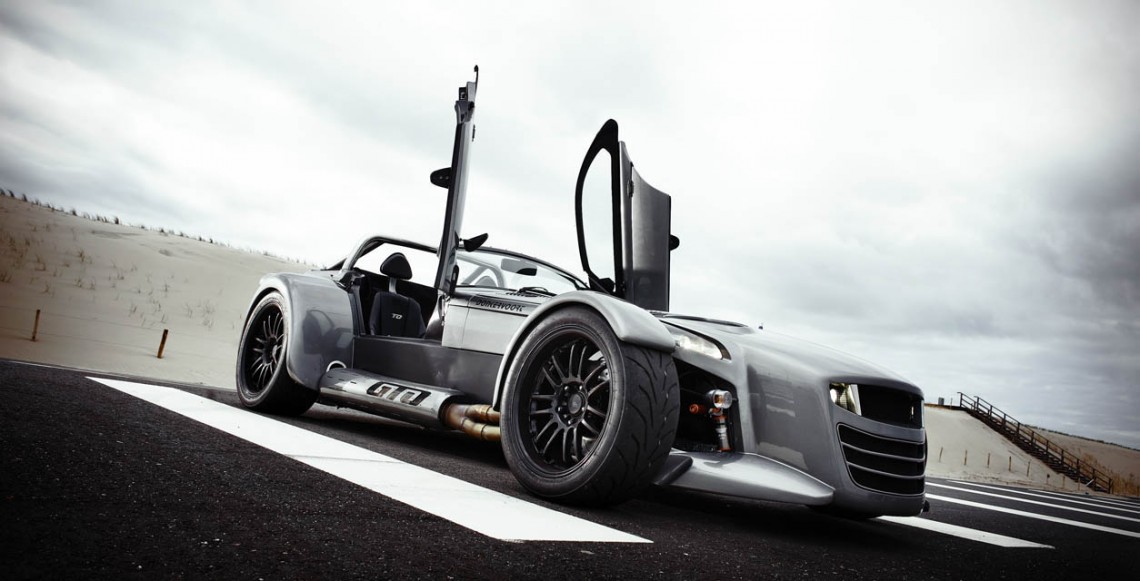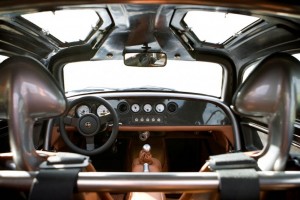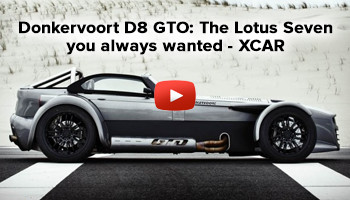 Since 1978 Donkervoort (located in Lelystad, The Netherlands) has steadily developed its Seven model line up to now include the Donkervoort D8 GTO. With nearly 400 bhp at less than 700 kg in weight it needs just 2.8 seconds to go from 0 to 100 km/h. The GTO is available in both hard-top and cabrio versions. With its longitudinally mounted Audi 5 cylinder 340hp 2.5 litre TFSI engine and a top speed of 270 km/h, the Donkervoort D8 GTO is one of the fastest street-legal cars in the world.
---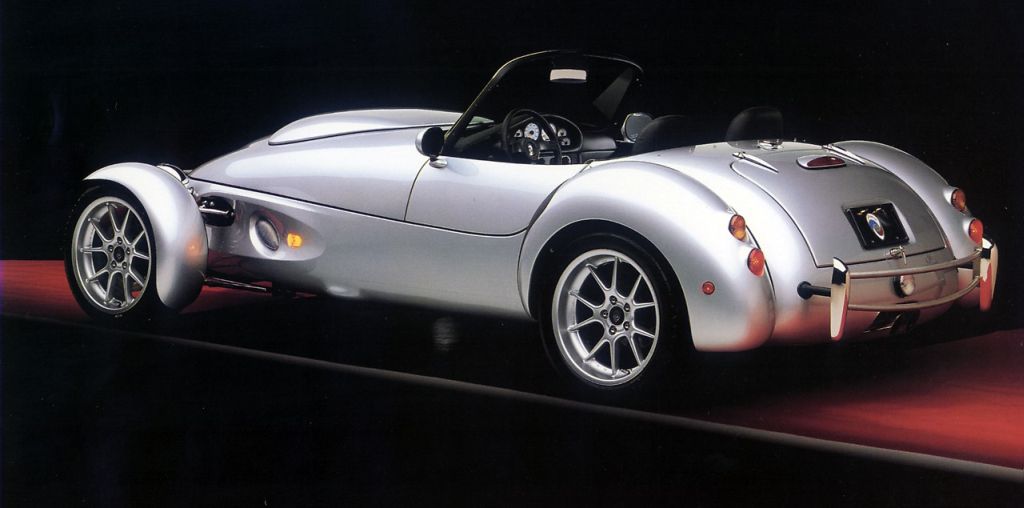 The Panoz Roadster was a sports car launched in 1992 by the American manufacturer Panoz Auto Development Company of Georgia. The Roadster was succeeded by the AIV Roadster in 1997. They were built using aluminum, similar to that of the Plymouth Prowler first sold several years later in 1997. The Panoz Roadster was the first American built aluminum intensive vehicle. Panoz's website states that the roadster is expected to return in 2015. You can clearly see the influence of the Seven in the design.
---
Because of the Seven's relatively simple design, many companies have offered cars based on the Seven over the years. Such cars are often referred to as "clubmans". Some examples are: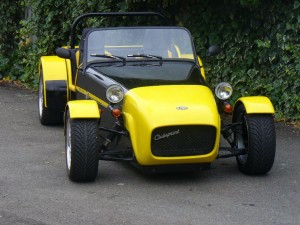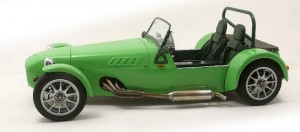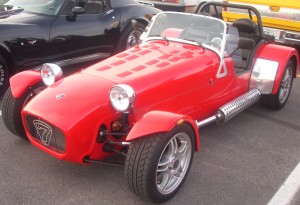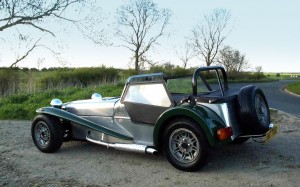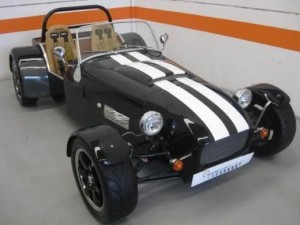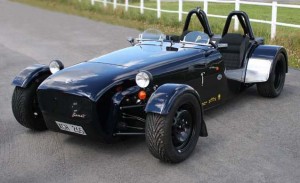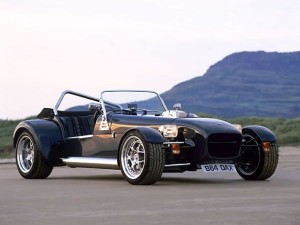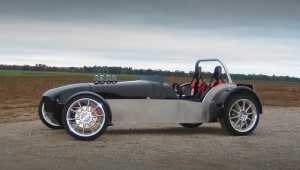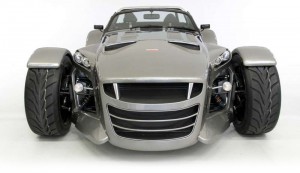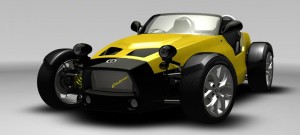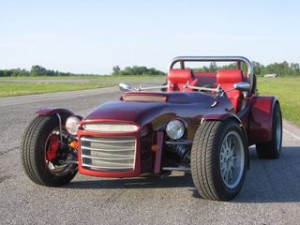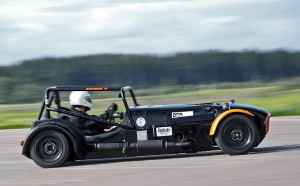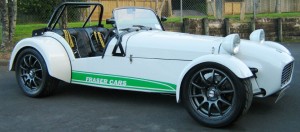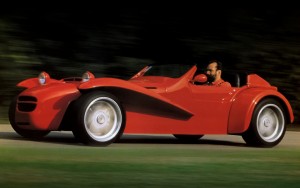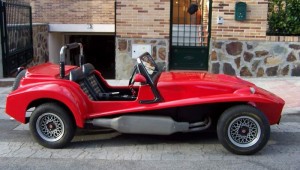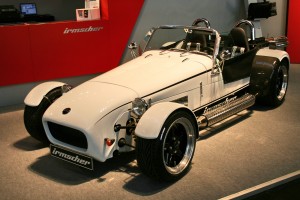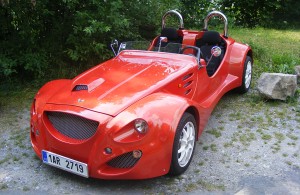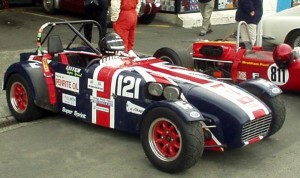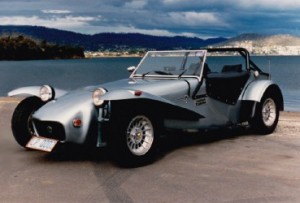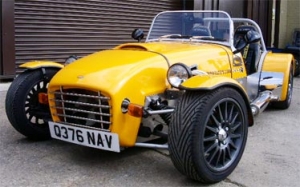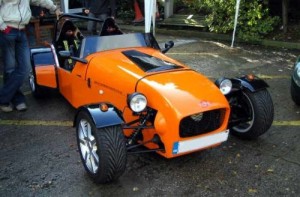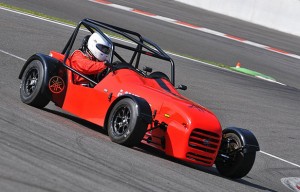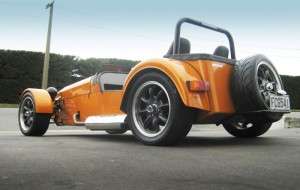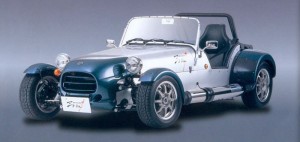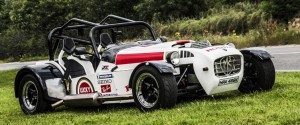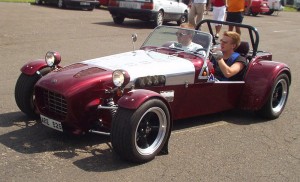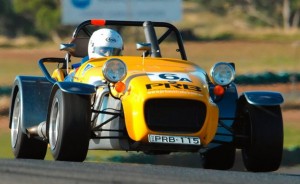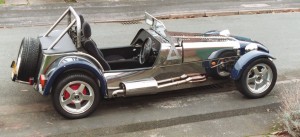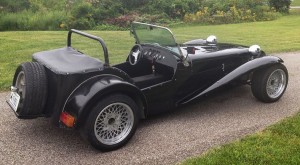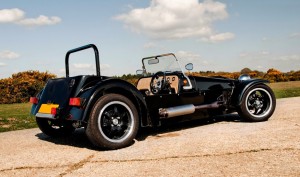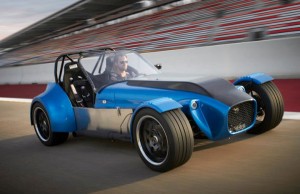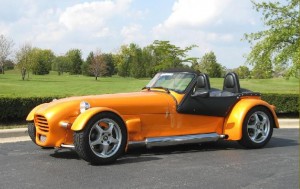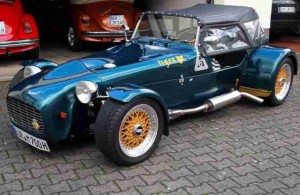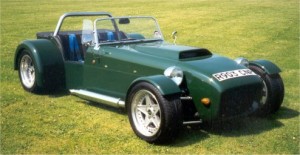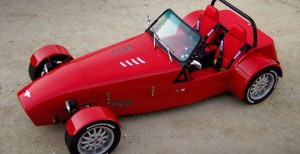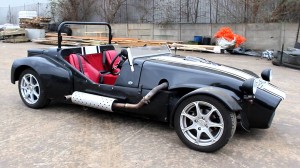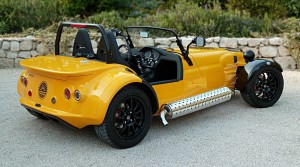 Please feel free to comment on this article if you have anything you'd like to bring our attention to.