The preparations for this event began on Saturday 23rd August when the event next day was cancelled.
By Dick Reynolds. Photos by Gloria Wade.
Due to the popularity of the Lakeside Driver Training Circuit (DTC) track, we could only get three events for the year, the first two being on Saturdays and this re-scheduled one on Sunday.
A quick assessment by Daryl and the re-scheduled date is to be 26th October 2014.
Now, Daryl sent out the usual email to attract entries, and in no time we had enough to fill a Brisbane City Council bus! Over-subscribed! What to do? Call the entries quits. Sorry, we are full.
To keep a long story, short, we ended up with 51 entries. 25 of which were Lotus Club members, and the remainder – 26 for the numerically challenged – from all over.
Now that is a great turnout, covering our costs and manageable on the day.
So, to the day in question. Sunny and fairly hot, track ripe for some good times, and plenty of fire smoke on the day.
Daryl busied himself setting up the timing, having been on holidays in Europe from the day before! Terry Scharf and I set about scrutineering all the cars and Jon Young, Matt Plowman, Shane Murphy, Clive Wade and others set about arranging witches hats, cleaning things and generally running around organising. We had a few tents this time, so it all took on the look of a Bedouin camp of sorts. Drivers' briefing was short and very clear, drive fast and be careful.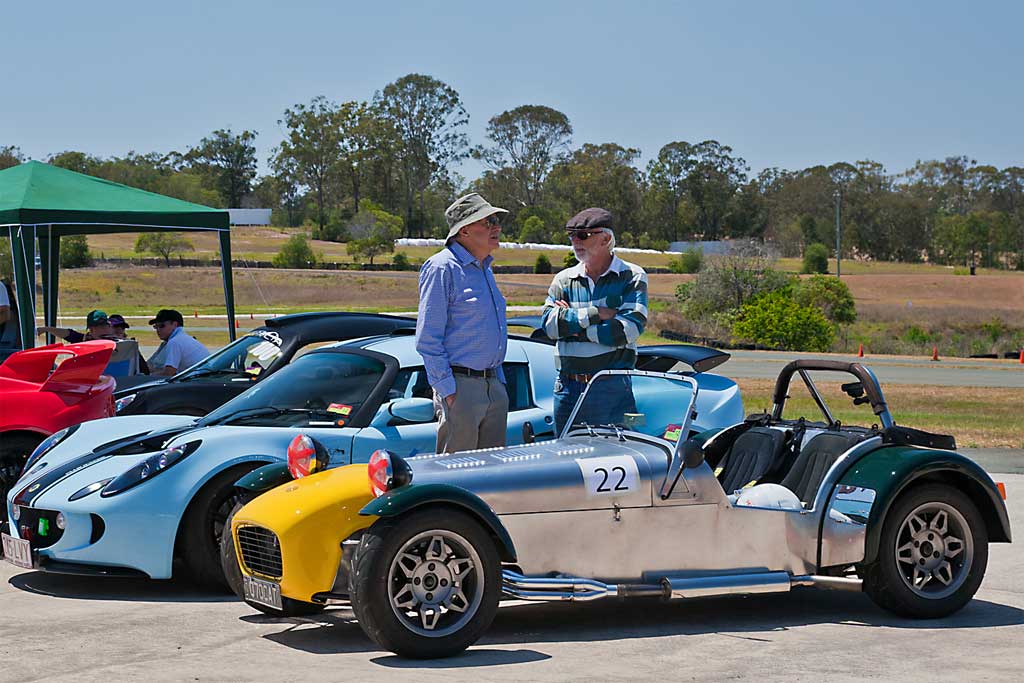 This shot epitomises DTC, or it's just two old blokes chatting!
The runs started about 9.00am and we managed to fit in seven on the day.
Garry Pitt immediately threw down the gauntlet with a 47.665, Martin O'Brien (Elise S) a 47.691, Matt Plowman (Scura) a 47.787. We all just followed on from there.
Shane Murphy and Ken Philp spent the day sorting their Sevens, Jon Young likewise after his re-build.
Ian Martin wasn't there, but Evan Molloy, Lindsay Close, Clint Watt, Rob Stevens, Martin O'Brien, Mal Kelson, Garry and Kelly Pitt and Michael Walsh kept the Lotus 'moderns' flag flying, with Ken and Liam Philp, Daryl Wilson, Jon Young, Shane Murphy, Jeff Rowse and myself punting the oldies so to speak.
It was nice to see a couple of MX5s in there, along with a Ford Escort, BMW M3, Gemini, Silvia, Golf, a gaggle of Nissany type things, a D type replica, Mitsubishi Evo, Ford GT (yes the new GT40 thingy!), Datto's and a couple of partridges in a nearby pear tree.
By the last run, we were all pretty content with a great day's racing, having completed seven runs, and suffering no maladies. A few left early, either busy, tired or protecting the car.
Matt Plowman once again won the day in his outrageously driven, quick Scura (45.559), closely followed by Gary Pitt in the HPE (45.616) and then Martin O'Brien (46.581). Which is all very well, but can I mention Jon Young just beat a flying Daryl Wilson (49.379, 49.527) on the back of his prang at Mt Cotton early in the year, Liam only just beat dad with a 48.369, dad a 49.277, Gary Fludder beat the Dax Rush Hyabusa by over a second, and Beth O'Donnell, partnered with Jeff Rowse, closed off the running with a 59.190.
I would like to mention a few other particular performances. Tim Hill punted his now re-built Datto 1600 into 10th place. Terry Scharf held up the HSCCQ end with a spirited 52.241. Gloria Wade took some great photos which will are on the web. And lots of people, particularly Angele Fludder, carried out the timing which proved faultless on the day!
Can't wait for the next one!