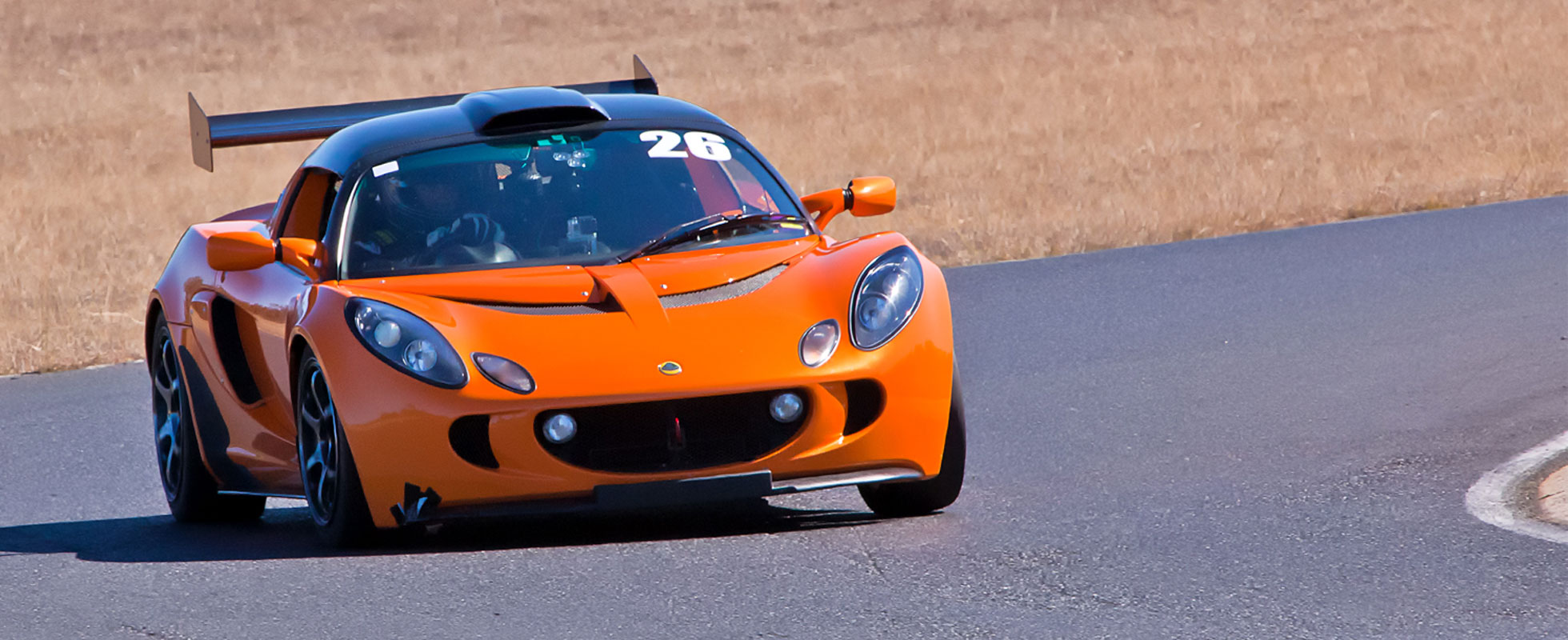 Round 3
By Clive Wade. Photos by Gloria Wade.
Well, a much reduced Lotus field this time round, no pun intended. Not our usual cast of thousands, no, we fielded just five Lotus shared between six drivers. The Ringuet family sharing Darryl's (dad's) Exige.
Now it is interesting to see how we are perceived by outsiders. Joe Arico, in Group 6, driving his now well bedded in Duratec Elise, was inadvertently classified as 3,000cc to 4,000cc, obviously due to his previous performances of the year, of ably near emulating the supercharged cars. Thus, he was sharing the grid with Geoff Noble, always renowned for his slow pace, and Darryl Ringuet who "potters" about in his Neil Trama prepared Exige, which still likes to pop and fart flames from the exhaust at every opportunity.
Daryll's times are not insubstantial as attested by his 3rd in class finish behind Geoff and son Mitch. Yes, Joe was moving pretty rapidly in substantial company in his under 2,000cc naturally aspirated Elise.
The Ringuet's obviously needing to purchase a second Exige so father and son can compete bumper to bumper in equally matched cars. This would negate Darryl's parental excuse for being slowest in the family due to "dad warming the tyres so son can have a full three laps on hot tyres".
As we only had four cars and five drivers in the Elise/Exige classes, then Mitch Ringuet was sharing the circuit with my good self in Group 11, thus he was off by himself for every run. I like the reasoning of dad warming Mitch's slick tyres as my excuse for not keeping up, though I fear superchargers, youth, and good driving may have a little to do with the results too!
Suffice to say we all had, other than John Barram, a thoroughly great weekend on the track with perfect conditions all weekend.
John, who was running his 1962 (that's not cc's) Lotus 7 this year, was going quite well for most of Saturday until the fourth run. Sadly when he came in the faithful Ford heart of his 7 was seriously (noisily) protesting in regard to continuing a race track life when it had every right to be enjoying its retirement.
John decided to call it a day rather than run the risk of further damage until he knows what all the commotion was about. Good luck John, we all hope it is nothing too serious.
The other great reason for Morgan Park weekends to be so much fun is the camaraderie. Always good hearted banter in the pits throughout the day, the evenings no less continue in a similar strain. Usually we go out, but this time Geoff's Maree suggested roast veges served with Geoff's professionally chefed steaks, and cooked by our good host Chris, would be far more preferable to the Stockyard Pub, which is our usual haunt on a Friday night. This was so well received by all that Saturday night was carried out in the same vein.
As said above, a great weekend, though we did miss our usual contingency.
Results – Circuit D: 1.2km x 4 Laps = 4.8km
Outright (93 competitors):
01: 3:00:884 Geoff Noble Elise HPSE
02: +0:10:143 Mitch Ringuet Exige
07: +0:15:517 Darryl Ringuet Exige
15: +0:22:732 Joe Arico Elise Duratec
20: +0:24:414 Clive Wade Elise HPE
85: +0:59:407 John Barram Lotus 7 (Year 1962)
Classes:
Sports Cars 3,000 & Over
01: Geoff Noble
02: Mitch Ringuet
03: Darryl Ringuet
Sports Cars 1,500 to 2,000
02: Joe Arico
03: Clive Wade
Pre 1977 Classic Sports Cars 0 to 1,500
08: John Barram
Round 4
Photos by Vyvyan Black.