Highlights of Japan Lotus Day 2019
Japan and Lotus. Part of a worldwide shared passion. Link courtesy Lotus Cars.
The first all-electric British hypercar. Link courtesy Lotus Cars.
First Time Out (Lotus 49) – 1967
This short doco, uploaded by Ford Heritage tells the story of the legendary Lotus 49, when it won the Zandvoort Grand Prix at its first outing. Featuring drivers such as Graham Hill, Jackie Stewart, and Jim Clark, it captures a unique moment in the history of motor racing.
The World's Fastest Lotus?
Frank Profera has spent six years making his Lotus go faster, stop shorter, and corner harder. Though it only has to move around 2,150 lbs, Frank's Lotus makes 680 wheel horsepower with a twin-charged 1.8L engine; giving it a better power-to-weight ratio than Mario Andretti's Formula One Lotus. It's an ongoing project that may never be finished, because of Frank's never-ending obsession with speed. We had to take it for a ride.
Jay Leno's restored 1966 Lotus Elan 26R
Professor Jim Hall's opus has finally concluded – this ultimate Lotus of his dreams is a tribute to one of the most wonderful eras in racing.
Lotus Esprit Sport 300: Wedge Of Wonder
The extremely rare Lotus Esprit Sport 300 might be one of the greatest cars Lotus ever made. Henry took it out for a spin to see if it lives up to its reputation. Carfection.
Lotus Racing at the Classic Team Lotus Festival.
A miniature Lotus model made for Jim Clark
A feat of mini engineering, this Lotus model was made by Henri Baigent to be presented to Jim Clark in recognition of his incredible skill and the Grand Prix victories he achieved through it. Baigent's skills may reside in a different, slower-paced field to Clark's, but are no less extraordinary – this is a model you have to see.
His models are miniature motorcar marvels, exacting in size and detail. They're not fully functional, but they're clearly spot-on mechanically as you can see when Baigent compresses the Lotus' suspension. He hand makes the cars, going into as much detail as to hand cut the tread in the tyres. Clark's Lotus is recreated here in 1/12 scale and is absolutely beautiful – a worthy tribute to the great racer. Sadly, Clark would pass away before it was presented to him, but we're pleased that a work of such skill and beauty lives on in celebration of his achievements.
The video shows some classic period footage of Clark at work on the track, followed by Baigent at work in his workshop.
The Birth Of Lotus To The Caterham Seven 165
A look at the new Lotus 165 inspires a quest to trace the origins of the cars that came before the Seven. By Xcar.
How It's Made Dream Cars – Caterham Seven 720p
Car factories and test labs are visited in this documentary series, which explores how luxury vehicles are built. Published on Nov 21, 2014.
1956 LeMans from the cockpit
Rare on-board footage made in 1956 of a preview lap of LeMans in a D-Type Jaguar driven and commented by John Michael 'Mike' Hawthorn, who won LeMans in 1955. Link courtesy Garry Saunderson.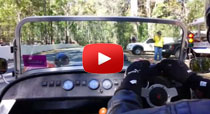 The Sevens Rule Channel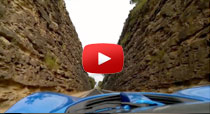 Trip to Preston Peak Winery
By Patty Beecham.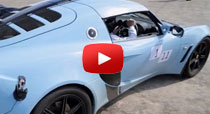 Taste of Traction
LCQ Motorkhana Event at Lakeside Raceway Driver Training Centre.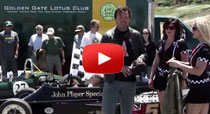 Golden Gate Lotus Club
LCQ strongly recommend that members going to the US in general and San Francisco in particular, contact local Lotus Clubs before going. They are extremely hospitable and love having Lotus visitors. Link courtesy Giles Cooper.