For a more comprehensive list of LCQ events please see our Calendar
2017 ICC Event Calendar

22nd July
PCQ Sprint Morgan Park
27th August
LCQ Lakeside DTC
30th September
MGCCQ Hillclimb Mt. Cotton
29th October
86 DC Sprint Norwell
12th November
HSCCQ Motorkhana Willowbank
10th December
Cars & Coffee Prizegiving Woolloongabba

2017 Morgan Park Sprint Series calendar
The new committee of the Warwick District Sporting Car Club / Morgan Park Sprint Series welcome you to the 2017 Queensland Super Sprint Series.
Each round consists as a two-day event, run on a different circuit.

Lakeside DTC – General Information only
The Lakeside Timed Laps, run under Queensland Raceway RACERS Licence arrangements are open to all LCQ Members, their family and friends. These events are extremely popular and are a great way to enjoy the camaraderie of motor sport in a safe, controlled environment.
The Lakeside Driver Training Centre is at the rear of Lakeside Raceway and has a combination of layouts. It is a bitumen track with fairly flat, open grass, safe run-off areas in most parts. See the course map below. The Timed Lap format is a single car run for one lap, and the aim is simply to have a great day. It's not about winning, it's about having fun.
These all-day events start around 7.30 am for registration, scrutineering and driver briefing etc. BYO lunch. The cost is $95.00 per driver which includes a Queensland Raceways RACERS Day Licence, or $75.00 if you have a QR RACERS Annual Clubman Licence.
An appropriate Queensland Raceways Entry Form must be filled out for each event. You will also need a QR RACERS Licence Form.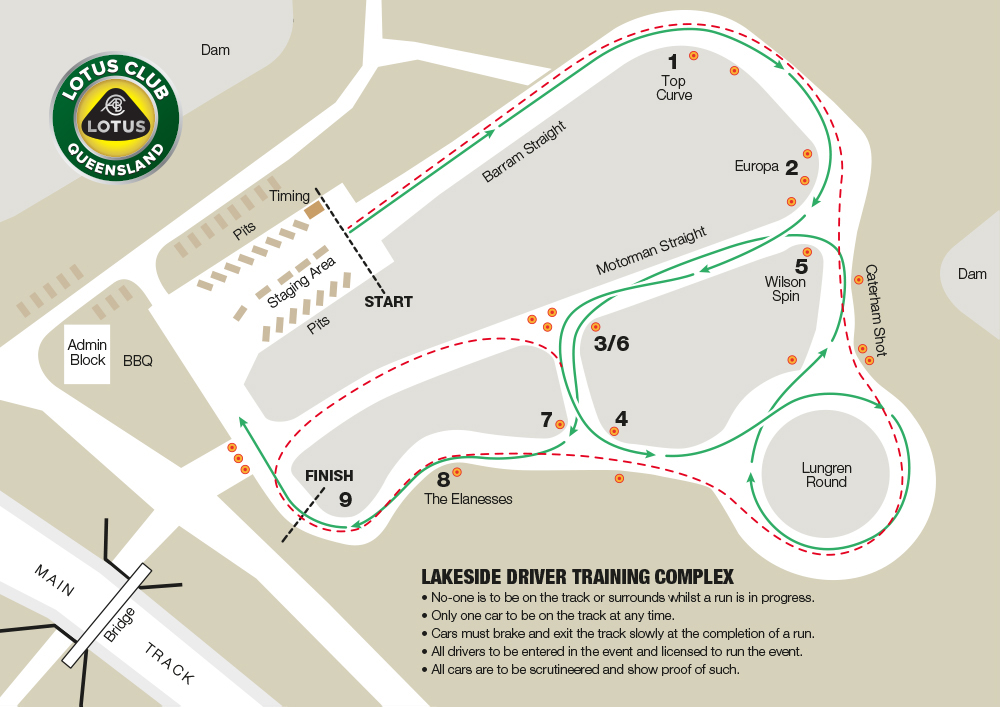 Please forward your payment by bank transfer to:
LCQ Bank Account BSB 633-000
Account No: 119108751
and include the reference "DTC and your name".
Important: You MUST register and pay before each event. NO entries will be accepted on the day.
If your vehicle is Queensland registered you will be required to obtain a Compulsory Third Party (CTP) insurance Rally Extension letter from your CTP Insurer. The CTP letter is to state the name and date of the event and be produced at registration on the day. Here is a sample letter.
Please also ensure you bring the following signed original forms on the day;
Your signed original Queensland Raceways Entry Form (available on our website closer to the event)
Your signed QR RACERS Day Licence Form – if applicable
Your QR RACERS Annual Clubman Licence Card – if applicable
Your CTP Rally Extension Letter
These forms will be required by Lakeside staff when you register. Please register early to assist us get off to a good start on the day.
For more info phone: Daryl Wilson on 07 3849 2220 or 0418 711 227
or email him.